Sean was born and raised in Denver, Colorado, the child of longtime Denver family lawyer Robert R. Dormer. After graduating from Cherry Creek High School, he obtained his Bachelor of Arts degree from the University of California – Berkeley.
Sean returned home to attend law school, graduating from the University of Colorado School of Law. During law school, Sean served as President of the Student Trial Lawyers Association, as the Public Interest Student Association's Representative to the Student Bar Association, and as a member of the law school's traveling Mock Trial Team.
Sean was most shaped, however, by his tenure as a student attorney in CU Law School's Defense Clinic. The Defense Clinic gave Sean the opportunity to represent clients with limited financial means for free, including those facing combinations of both criminal and immigration charges. It was this experience that gave Sean his passion for trial work, especially for those most in need.
For nearly three years both near the end of and after law school, Sean worked for an extraordinarily busy Denver-area personal injury law firm. He has represented numerous clients at all stages of their cases, from the initial consultation through settlement negotiations, trial, and appeal.
Sean founded Dormer Law, LLC, in 2013, and founded Dormer Harpring, LLC with K.C. in January of 2016. He enjoys the small firm atmosphere, which allows him to work closely with his clients, find creative legal solutions, and avoid the "mill" style representation common in today's personal injury field.
Among other cases, Sean recently represented a woman who was injured in a slip-and-fall accident in a grocery store through trial in Boulder District Court. Despite prior pain in the same body parts only months prior to the accident, Sean's client was awarded a favorable verdict and a settlement for $2.1 million.
When Sean is not fighting for injury victims, those accused of crimes, and residential tenants, he can be found playing his guitar, enjoying Colorado's outdoors (particularly rock climbing, mountain biking, skiing, and fly fishing), or riding his motorcycle.
Awards and Recognitions
Sean is a member of the Multi-Million Dollar Advocates Forum. Established in 1993, this is one of the most prestigious groups of trial lawyers in the United States.
It's primary purpose is to recognize the skills, experience and accomplishments of trial lawyers who have won large and complex cases. Its members have won million and multi-million dollar cases on behalf of their clients.
Sean is also recognized as one of The National Trial Lawyers' Top 40 Under 40 for Personal Injury. Membership is by invitation only and is extended to the most qualified attorneys from each state who demonstrate superior qualifications of leadership, influence, reputation, stature and public profile. It's mission is to promote progressive ideas to pursue justice for those injured by the negligence of others, to educate the public about the importance of access to courts that are free of bias and undue influence, and to protect the right of trial by jury.
The Avvo Rating is an evaluation of a lawyer's background based on information collected from public sources like state bar associations, regulatory agencies, court records, and lawyer websites. Peer endorsements from other lawyers are also considered. The 10/10 rating is the highest available and speaks to Sean's excellent reputation.
Sean was named to the Super Lawyers Rising Stars list for 2018 and has been named again to the list in 2019. Super Lawyers selects attorneys using a patented multiphase selection process. Peer nominations and evaluations are combined with independent research. Each candidate is evaluated on 12 indicators of peer recognition and professional achievement. Selections are made on an annual, state-by-state basis. The objective is to create a credible, comprehensive and diverse listing of outstanding attorneys that can be used as a resource for attorneys and consumers searching for legal counsel. The Rising Stars list recognizes no more than 2.5 percent of attorneys in each state. To be eligible for inclusion in Rising Stars, a candidate must be either 40 years old or younger, or in practice for 10 years or less.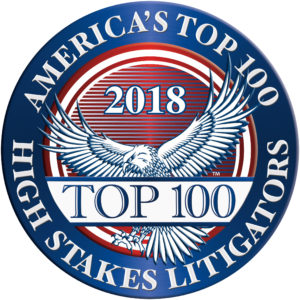 Sean was named to the Top 100 High Stakes Litigators in September of 2018. To be considered for selection, an attorney must have litigated (for either plaintiff or defendant) a matter (1) with at least $2,000,000 in alleged damages at stake or (2) with the fate of a business worth at least $2,000,000 at stake. These minimum qualifications are required for initial consideration. Thereafter, candidates are carefully screened through comprehensive Qualitative Comparative Analysis based on a broad array of criteria, including the candidate's professional experience, litigation experience, significant case results, representative high stakes matters, peer reputation, and community impact in order to rank the candidates throughout the state. Only the top 100 qualifying attorneys in each state will receive this honor and be selected for membership among America's Top 100 High Stakes Litigators ® . With these extremely high standards for selection to America's Top 100 High Stakes Litigators®, less than one-half percent (0.5%) of active attorneys in the United States will receive this honor — truly the most exclusive and elite level of attorneys in the community.
Work with a Denver Personal Injury Attorney
Contact us at (303) 747-4404 or email us via our contact form for the opportunity to work with Sean Dormer.